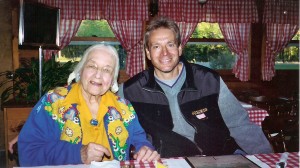 I must start this brief commentary by saying that I was incredibly fortunate to be raised in an highly intelligent, thought provoking, and art-rich environment. I was surrounded from birth by an amazing array of classically and self trained artists, accomplished writers, poets and musicians. Immediate family, aunts, uncles, cousins and alike – being around such creative energy fueled my own personal fire for creation and expression. In my immediate family, my talented sisters each possess creative natures in both music and written word, and have always demonstrated their own artistic talents boldly and uniquely. My mother, now 87 years young, worked for many years creating fine artwork of clay, mixed media, needlework, and much more. Mom's crowning glory through the years has always been her gifted green thumb. Planted with supreme precision to bloom (like a fireworks display) consecutively throughout Wisconsin's brief growing season, her imaginative eye for color and spacial design were always well represented. Every year we awaited her visual masterpieces and were never disappointed.
My father, with great sadness, is no longer among us down here. He was a remarkable academic, and a well trained and talented writer and poet. He possessed, and displayed for us all daily, his extraordinary literary acumen. From little on, dad instilled an insatiable desire the written word in us all. Many indelible stories were told, planting the seeds of literary wonder while quoting verse from Emerson, Byron, Keats and many others. Among some of his oft heard quotations were the words from Oliver Wendell Holmes, reflecting on man's remarkable and yet sometimes sorrowful earthly condition. One that I remember being; "A man may fulfill the object of his existence by asking a question he cannot answer, and attempting a task he cannot achieve".  Ergo, as you might guess, there was always time for philosophical discussion about the inevitable battle we all face between making a living in this world (and brief existence),….and making a life. If you are so fortunate and so talented – they will inevitably intertwine.
I could not complete this brief history lesson without mentioning my great fondness and appreciation for a wonderful mentor and even better aunt, my aunt Joan. Although there are several fine artists nestled within our family tree worth mentioning, I must give one of the greatest mentions to my aunt Joan (i.e. Joan Beringer Pripps, of "Studio in the Woods" fame). My mothers eldest sister was a wonderful classically trained, lifetime artist by profession. She was one whose artistic abilities were truly unlimited.
Aunt Joanie was an elite level realist/impressionist portrait and landscape artist, – by any standard. She worked in oils and watercolors, but also worked her magic with oil and chalk pastels, graphite, ink & pencil – and that's just the beginning. In all truth anything aunt Joanie touched turned to platinum. She handcrafted an extensive series (over 100) of superbly finished figurines. All modeled after some of the most famous women throughout history, including a special series devoted to the unsung heroines of Wisconsin. Joanie also a managed to create a beautiful array of needlepoint-needlecraft art (including clothing), handcrafted & hand painted pottery, and so much more. She was a "one of a kind" artist and equal the person. When we visited together I would always make careful note and study work. I always enjoyed the opportunity to discuss her passion and inspiration, processes and techniques. She was always candid and a great source of knowledge and inspiration when it came to the arts, and as well, – just a wonderful human being.
She possessed a zest and energy for life that few people have, or are even lucky enough to be in the company of. She left us a short while back, passing at age 94 in 2005. She passed while still prolific in the creation of her artwork at 94. I say humbly once again to you Aunt Joan, "Thank You", for all that you gave this world, and all that you were to me. You will forever live on within the frames of your unique expressions that brighten the walls, and moreover hearts, wherever your work can be found. I'm without doubt that the heavens have become even yet that much more beautiful from your masterful touch…